Updated: December 8, 2023

We looked for extra codes!
Roblox Blade Ball takes dodgeball to a whole new level. Players can play an unlimited number of matches against each other and use skills and blocks to control the homing ball. Purchase new abilities and utilize various strategies to get wins, then top the leaderboards with your amazing ball control.
I highly recommend claiming the codes below for Blade Ball, as they will reward you with Coins and other amazing rewards that are helpful for new players. If you like similar ball games, check out our compilation of Dodge Stars Codes and Roblox Ball Throwing Simulator Codes to not miss out on amazing, limited-time rewards.
All Roblox Blade Ball Codes List
Roblox Blade Ball Codes (Working)
LIVEEVENTS—Redeem for a free Spin (New)
VISITS_TY—Redeem for a free Spin
SERPENT_HYPE—Redeem for a free Sword
UPDATE.DAY—Redeem for a Sword Skin
UPD250COINS—Redeem for 250 Coins
1.5BTHANKS—Redeem for a Ball on a Stick sword
Roblox Blade Ball Codes (Expired)
HALLOWEEN—Redeem for a themed Sword Skin
3MLIKES—Redeem for free Spin
1BVISITSTHANKS—Redeem for a Special Sword
HAPPYHALLOWEEN—Redeem for free Spin
RRRANKEDDD—Redeem for 200 Coins
WEEK4—Redeem for a Unique Sword Skin
SORRY4DELAY—Redeem for 160 Coins
UPDATETHREE—Redeem for a Spin
1MLIKES—Redeem for 200 Coins
HOTDOG10K—Redeem for a unique sword skin
10KFOLLOWERZ—Redeem a unique sword skin
500K—Redeem for 149 Coins
200KLIKES—Redeem for 200 Coins
FORTUNE—Redeem for a free Spin
50000LIKES—Redeem for 200 Coins
ThxForSupport
1000LIKES
5000LIKES
10000LIKES
SITDOWN
Related: Dragon Ball Rage Codes – Roblox
How to redeem codes in Blade Ball
Follow the steps below to redeem codes in Roblox Blade Ball: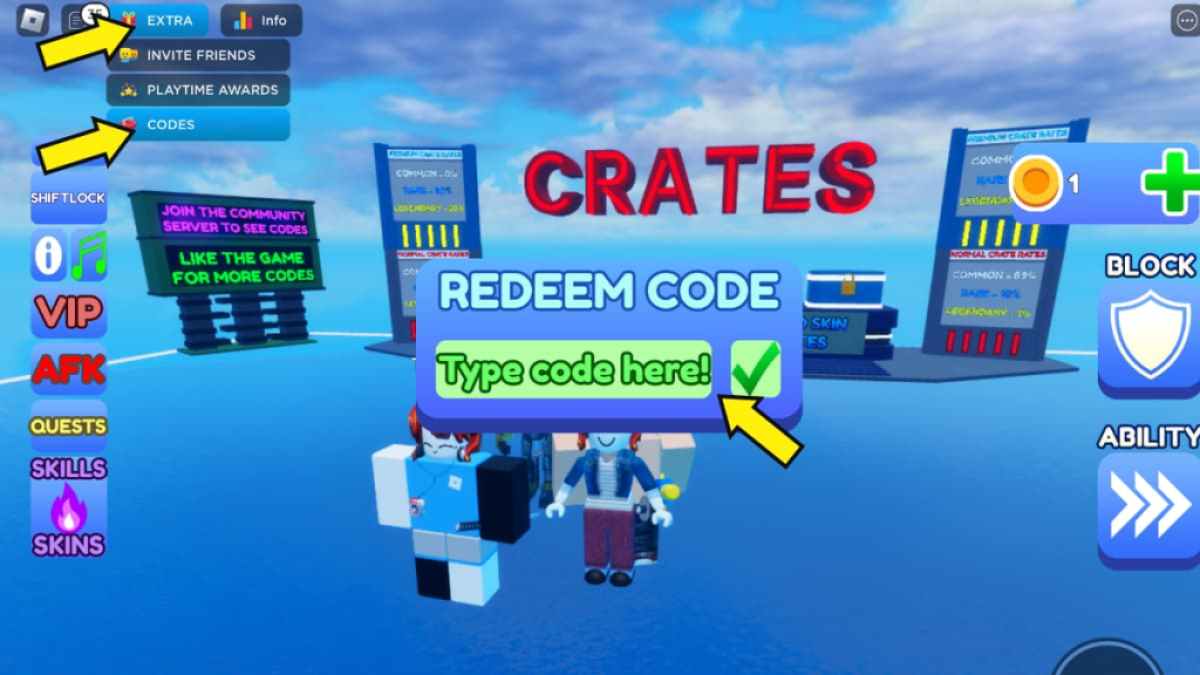 Click on the EXTRA icon on the upper left of the screen.
On the drop-down, click CODES to open the code redemption pop-up.
Type the code exactly as-is in the Type code here! textbox.
Click the check button to obtain rewards.
How can you get more Roblox Blade Ball codes?
To find more codes for Roblox Blade Ball, join the Blade Ball Discord Server, where codes may regularly be posted. Alternatively, you can bookmark this page, as we'll constantly update it with all working codes, so you don't have to look for them yourself.
Why are my Roblox Blade Ball codes not working?
Roblox Blade Ball codes may not work for a few reasons. First, you might have mistyped it (which happens to the best of us). Make sure to type in the codes exactly as they're written above to prevent errors. Second, you might have already claimed the code before. Codes can only be claimed once! Finally, the code might be expired. If that's the case, let us know in the comments below so we can remove it from our working codes list.
How to get more free rewards in Roblox Blade Ball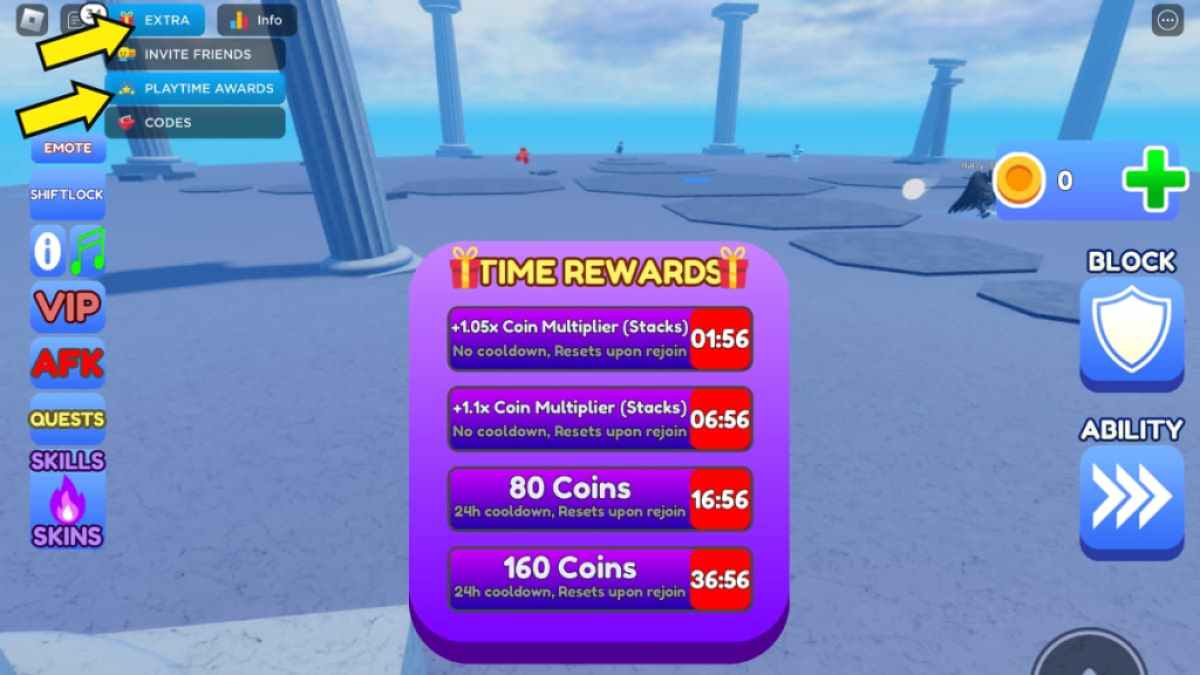 To get more free rewards in Roblox Blade Ball, click on the EXTRA icon on the upper left of the screen. On the drop-down, click on PLAYTIME AWARDS to open a pop-up where you can claim time-gated rewards. You'll receive Coins and buffs for free just by playing the game for a certain amount of time, and you can get more rewards the longer you play. The timer will reset when you get disconnected or leave the game. You can also like the game on Roblox and join the official Wiggity group to claim more rewards from the Group Rewards zone in the game.
What is Roblox Blade Ball?
Roblox Blade Ball is a rendition of competitive dodgeball, where players can play against other players using unique abilities to control the homing ball. From attacking to blocking and getting decked out in the coolest skins, both casual and competitive players are welcome to try topping the leaderboards.
Like Roblox games? Check out our Pro Game Guides Roblox Game Codes post! You can also get a bunch of free goodies via our Roblox Promo Codes page.